Cutlery
---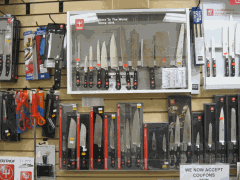 Here at the Kitchen Corner, we have a large selection of quality knives including J.A. Henckels, Wusthof-Trident, and Ergo Chef. We have almost every type of knife you could want, including:
In addition to knives, we also offer kitchen shears. Plus, since all knives become dull after being used, we sell sharpening steels to keep your blades sharp and yourself safe.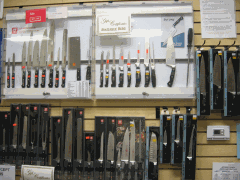 We recommend having your knives professionally sharpened once a year as well as personally maintaining them. The reason for this is that the microscopic teeth on the blade can be straightened by personal maintenance, but when the teeth break off, which happens over time with steel knives, they need to be professionally sharpened in order to sharpen a new row of teeth. The Kitchen Corner offers professional knife and scissor sharpening for your convenience.