Cookware
---
Here at the Kitchen Corner, we have a large selection of quality cookware including Cuisinart, Le Creuset, Lodge, Nordicware, and All-Clad.
Cuisinart: Professional chefs and home cooks have long recognized the importance of premium triple ply cookware. Each piece of cookware is designed to provide the professional results chefs demand. Whether a skillet for frying fish, a saucepan to prepare savory wild rice or a stockpot to cook lamb stew, Cuisinart MultiClad Pro Stainless Cookware provides perfect heat for perfect results, every time.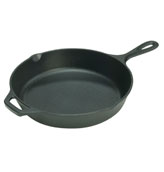 Lodge Logic: For more than 110 years, Lodge Manufacturing has been perfecting the process of making cast iron cookware. But the process was never complete until countless meals were prepared to create a treasured black patina. Only then was cast iron "seasoned."
In 2002, the Lodge team developed a proprietary vegetable oil spray system with high temperature gas ovens to season the cookware. No hassle, no magic, no work, simply an heirloom finish everyone can use right out of the box!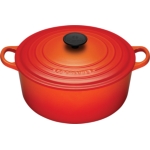 Le Creuset: From the inside out, Le Creuset is synonymous with enduring quality, inspired beauty and unparalleled performance. Le Creuset French Ovens are crafted from quality materials in the classic French tradition of slow cooking, a patient approach that yields a rich and flavorful results. By sealing in the moisture with their tight fitting lids, their iconic designs ensure that meats remain tender and vegetables retain the ideal amount of liquid.
We carry most varieties of cookware including: